LASER HAIR GROWTH COMB
"I'm a woman in her 70s and always had a problem with my fine hair--especially on the sides. I started using this laser comb about two months ago. I have used the laser three times a week for 11 minutes for the past two months. I couldn't tell by looking in the mirror to see if this was working, so this morning I asked my husband to have a look at it for me. He held the mirror up for me and I couldn't believe my eyes! There is quite a difference! I am shocked and thrilled! It works!!"
⭐⭐⭐⭐⭐ - Barbara Parke
✅ Verified Buyer
As people get older, their hair often starts losing volume and thickness. This leaves a minor recession on the temple or sides or patches on the head. Having previously had thick hair with beautiful volume can cause you to freak out, especially when it becomes painfully visible.
 laser hair growth comb is designed to help anyone going through hair thinning, hair loss, or even patches. Its infrared technology is designed to effectively stimulate up to 83% of the hair follicle reducing the effect of hair loss and hair thinning. Experience once more the joy of voluminous thick hair with the help of this comb.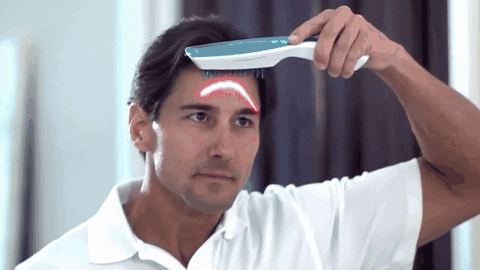 REASONS WHY THE LASER HAIR GROWTH COMB WILL CHANGE YOUR LIFE
✅ VALIDATED BY CLINICAL TRIALS: our laser technology has been validated by 7 clinical studies. It is proven to regrow hair with an average hair count increase of 129 additional new hairs per sq. inch. after six months in clinical studies.
✅ PERFECT FOR THINNING HAIR: It pioneered the home use of nourishing and therapeutic laser light energy directly targeted to hair follicles to reverse thinning hair. This promotes hair growth, restores the hair growth cycle, and increases density & fullness.
✅ FAST TREATMENT: This laser comb regrows fuller, denser healthier hair with 3 weekly treatments of 11 minutes, every other day. This makes it a faster and more efficient alternative to expensive hair oils and treatments. Cordless, extremely comfortable, and portable. Perfect for home use or travel.
✅ CONVENIENT TO USE: It is intuitive to use, cordless, and extremely comfortable to hold. This makes it a perfect everyday hair care tool whether at home or during travel.
✅ BLOOD AND NUTRIENT CIRCULATION: Its soft infrared wavelength helps enhance blood circulation. This ensures that oxygen and nutrients are sent to the hair follicles, to prevent hair loss effect.
We understand how self-conscious we can be when we are not 100% comfortable with our appearance. It can be very frustrating having to constantly twist and turn to find the perfect hairstyle to try and conceal the effects of hair loss, hair thinning or patches! A recent study shows that more than 80 percent of men and nearly half of women experience significant hair loss during their lifetime!
this laser is designed to stand by you and help you out during this experience. Its infrared technology stimulates over 83% of hair follicles to facilitate the regrowth and thickening of hair. Enjoy newfound confidence, with voluminous and thick hair effortlessly.
PRODUCT SPECIFICATIONS
Colour: White
Material: ABS
Powered by: 2x AA Batteries (Not Included)
Usage Time: 5-10 minutes
Adjustable Gears: 2 Low Cycle Gears
Function: Infrared Physiotherapy, Massager
PACKAGE INCLUDES
(1) X LASER HAIR GROWTH COMB
At Essential Lite, we believe in the quality of our products therefore we offer a 30 Day Money Back Guarantee with no questions asked! When you purchase from us, there is ZERO Risk for you!
Congratulations!