Protective Cover Kit for Car Seat Waterproof Pet+ Seat Belt
Protective Cover Kit for Car Seat Waterproof Pet+ Seat Belt
NOW YOU CAN TAKE YOUR PET WHERE YOU WANT WITH COMFORT AND SAFETY WITHOUT RISING THE RISK OF MIRRORING YOUR CAR!
Our cover is designed to universally fit any standard vehicle and is equipped with seat belt slots, headrest straps and a non-slip rubber lining.
BENEFITS OF THE PROTECTIVE COVER:
❌ No more dog fur everywhere!
❌ No more scratches!
❌ No more cleaning up mud, water and urine!
❌ No more dog smells!
✔️ Take your dog with you wherever you go!
✔️ Keep your dog safe while driving!
✔️ Keep your car clean!
✔️Fits to all cars, trucks!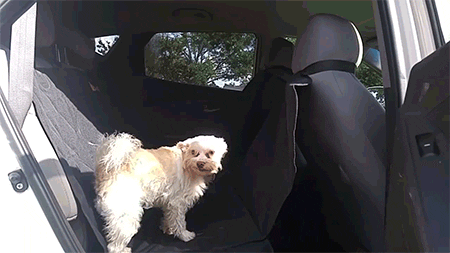 PET FRIENDLY DESIGN - It comes with a non-slip base finish designed to protect your pet from slipping onto the dashboard whenever you hit the brakes. This translates to a much more worry-free driving experience for you and a comfortable resting experience for your pet, it comes with anchors, which hold it securely in place, and has a non-slip rubber back that prevents slip so you DON'T NEED TO WORRY about dirt, hair or claw marks on your seats.
 EASY TO CLEAN - When the backseat car cover gets dirty, you can simply remove it easily and wash it in the washing machine to leave it clean, clean and ready to use again. Easy to install within minutes according to our instruction manual.
 EASY TO INSTALL -No special tools and technical skills required, it s installed in a matter of minutes. Simply unfold the dog seat, attach the safety strap to the front and rear headrests of your car, truck.
Once installed, insert the seat anchors between the backrest and seat surface to prevent the cover from slipping out of place. Once you're done, you'll be ready for an easier travel experience.
THE PACKAGE INCLUDES:
1XProtective Cover for Waterproof Pet Car Seat 143x153cm .
1XSeat Belt.
FREQUENT QUESTIONS
IS THE SITE SECURE?
Our Site is 100% encrypted and authenticated by SSL, your personial data is not shared and no financial data is stored.

WHAT ARE THE FORMS OF PAYMENT?
You can pay by credit card in installments in up to 12 installments . 
HOW DOES THE WARRANTY WORK?

You will be able to use the product during the first 7 days and if it does not have ANY result, the Coletyva Store will FULL refund your money!
The risk is entirely ours!